Corn
Parkland Farms is proud to offer a broad range of corn trait technology choices for our customers containing DEKALB® genetics. DEKALB® hybrid corn seed protects crops from weeds and pests by incorporating exclusive genetics, and innovative traits to realize maximum yield performance. Parkland Farms exclusively grows DEKALB® corn hybrids, in doing this we can offer our customers relevant agronomic data on numerous hybrids and across various soil types.
For simplicity and convenience, we offer refuge in a bag or RIB Complete® products which already contain 5% refuge. DEKALB® Genuity® SmartStax® and DEKALB® Genuity® VT Double PRO® corn hybrids are RIB Complete® products.
Contact Parkland Farms today to discuss which DEKALB® corn hybrids will fit on your farm.
here for a comprehensive list of DEKALB® corn hybrids http://www.dekalb.ca/eastern/en/corn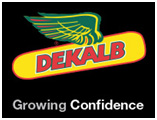 Individual plot reports can be found here http://www.dekalb.ca/eastern/en/iplot?crop=Corn